Put together the dashing, deadly and terribly comfortable Man in Black costume from The Princess Bride!
Tired of just dressing up as an ordinary pirate? Then why not be the Dread Pirate Roberts?
The Dread Pirate Roberts is the perfect hero; heroic, skilled in sword, wit and strength, a daring pirate, a mysterious masked man, dressed in black like a ninja and the captain of his own ship, he pursues vengeance and true love with equal turns of comedy and daring across the screen of The Princess Bride.
Not only can he be played straight or silly, over dramatic or quietly competent, but his costume is actually pretty easy to put together!
The Dread Pirate Roberts makes a great costume on its own, a really good couple cosplay with someone dressed as Buttercup (see the
quick costume guide to Buttercup here
) or a group cosplay of all the characters. The Princess Bride has a nicely varied cast of very recognisable characters of very different builds and personalities, so it would suit a very mixed group of people.
The Dread Pirate Roberts wears what is now a 'standard' black pirate costume. This is a no sewing version, because I can't sew! (Obviously you can modify stuff if you have the skill).
Each piece of clothing (leggings, shirt, head scarf) is black and needs to match the rest as closely as possible. It turns out that clothes come in different shades of black, so be careful. The boots, gloves, belt and mask are all made of shinier materials in the film and serve as highlights to break up the black, but should all be as close to each other as possible.
We pause for an important PSA...
If you don't own, or haven't even seen, The Princess Bride, then you need to correct this as quickly as possible! It's a fantastically funny film that covers all the genres. The book is a rich source of parody and background material, and it's well worth picking it up to learn more about the character and motivations of the Dread pirate Roberts (all of them).
What Do You Need for a Dread Pirate Roberts Costume?
Pirate Boots (for emptying stones out of)
A sword (replica or cheap approximation)
A mask! (they're terribly comfortable)
Tunic/shirt
Trousers
Gloves for added blackness
Hairstyle - short ponytail and a black headwrap
Belt / sash
The Pencil mustache!
Attitude and Quotes

Prep Time: Depends how good you are at shopping or sewing, and what you already own, but it shouldn't take more than half an hour to put together once you have all the pieces.

Total Wearable Time: Until someone forces you to take it off or you get arrested

Serves: All comers
Don't have the time, money, or interest for putting your own costume together? You can just buy a ready made version.
Otherwise, read on for specific step-by-step instructions for each step of the costume and places you can buy each item. The nice thing about this costume is that it's very similar to standard pirate costumes, and the Zorro outfit, so you can easily adapt one of those if you have one.
Headgear (Mask and Headwrap)
The Dread Pirate Roberts cunningly conceals his identity from his true love and frustrates his opponents by wearing a black half mask and wrapping his head in a scarf.
"Life is pain, Highness. Anyone that says differently is selling something."
Take the time to get a decent mask and DON'T get a kid's one unless you've got a very small face. I did, and the eye holes were in the wrong place and the mask itself was uncomfortable. There are quite a few different
black half masks
on Amazon (also see 'domino mask'), and most of them are pretty cheap.
The headwrap is just a plain black scarf; I recommend getting a headwrap that's already been turned into a head thing.
Here you can see that the back of the bandanna is quite long - hanging to just below his shoulders. You can also get a look at the two swords.
This is the set-up for one of the best moments in the film - Inigo has just switched hands, declaring he's not actually left-handed, and beaten the Man in Black back... Moments after this scene, the Man in Black pulls the same trick!
If you've got a black scarf of some kind and are any good at tying knots, you could (fairly) easily make this yourself. It is worn as a smooth black headwrap, with the back parts of the scarf tangling down to just below the shoulders. This means you'll want a nice big one, like this
Big Solid Bandana
.
Mask and Headgear Examples




The Boots For The Dread Pirate Roberts Costume
The Dread Pirate Roberts wears fairly standard pirate boots, knee high and rolled over at the top. Finding a black pair is the most difficult part!
If you don't want the expense of a full pair of boots then you can buy boot covers, which often work very well. Look for ones that come just below the knee, are black, with as few buckles and laces as possible (his costume is supposed to be plain and featureless).
The rolled over part at the top shouldn't be jagged or diagonal, and shouldn't cover more than half the length of the boot (a quarter to a third is about right).
Ellie Shoes Adult Buccaneer Boots
Pleaser Women's Maiden-2025 Pirate Boot,Black PU,10 M US
Black Lace Up Shirts - Plain black pirate or 'Zorro' style shirts
The shirt worn by the Dread Pirate Roberts is black (of course), laces up at the front, and with billowing sleeves. It's a pretty typical pirate shirt, so you should easily be able to find something.
It does have a small collar, but it doesn't have extra flounces or anything. There is a strip of decoration around each shoulder; a subtle lace pattern, but it's honestly not very noticeable and you're unlikely to find anything that matches. Bear in mind that you can cut flounces and collars off, if you can't find quite the right shirt.
Don't worry about the bottom as that will be tied in by the belt and tuck into the trousers.
Some suitable pirate shirts for the Man in Black Costume:


Unlike most typical pirate costume pants, the Dread Pirate Roberts' trousers are actually quite tight and slim. You have to be able to move around in them, and they need to fit inside the boots (which means they'll be hidden below the knee). You'll be tying the sash around the top, so this means that the only bit that matters is what shows between knee and waist.
These ankle banded pants
would work well, but any pair of black leggings (or tightish trousers) will do!
The Sword
The sword of the Dread Pirate Roberts was actually a fencing foil and he knew how to use it!
Westley wears a swordbelt over his sash, and of course he has a sword. It's a fencing foil, not a pirate cutlass, which is a very important distinction. You can pick up real replicas of his sword, or just grab a cheaper (or safer) alternative. Oh, you'll also want a 'sword frog' to actually hang the sword from!
This
gorgeous fencing foil
is a good match. A little pricier than a plastic costume sword, but worth hanging on your wall once Halloween is over.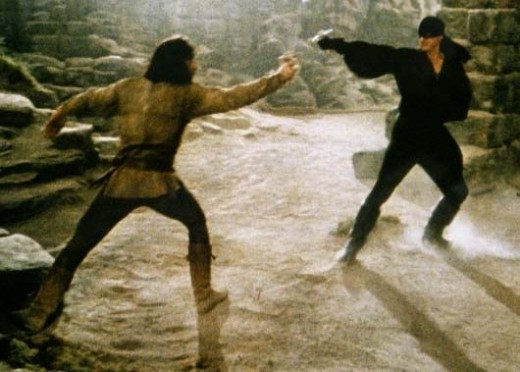 The Dread Pirate Roberts duels Inigo Montoya on the Cliffs of Insanity
Memorising the following exchange is mandatory, should you desire to wield the Man in Black's sword. (
Inigo has a sword too!
)
Inigo Montoya: You are using Bonetti's Defense against me, ah?
Man in Black: I thought it fitting considering the rocky terrain.
Inigo Montoya: Naturally, you must suspect me to attack with Capa Ferro?
Man in Black: Naturally... but I find that Thibault cancels out Capa Ferro. Don't you?
Inigo Montoya: Unless the enemy has studied his Agrippa... which I have.
This beautiful and highly accurate sword is an officially licensed replica of the one used in the film. It is limited to only 750 pieces world wide. The sword is usable as an actual sword or as a display piece.
Sash and Belt
<


Gloves
The gloves are optional, but a nice touch of completeness. Extending slightly past the wrist, they flare out to cover the cuffs of the shirt. Ideally, they'll be leather and with no, or minimal, buckles or raised sections or ornamentation. They will of course be black. "Gauntlet gloves' is a good search term to try.
Dread Pirate Roberts Quotes
No costume is complete without some pithy in character comebacks (and if you can't take the excuse of dressing up to go around quoting The Princess Bride, then why are you dressing up at all?). These are all said by the Dread Pirate Roberts - carry your favourite quote on a placard or memorise a bunch of them!
You mean, you'll put down your rock and I'll put down my sword, and we'll try and kill each other like civilized people?
Life is pain, Highness. Anyone who says differently is selling something.
All right. Where is the poison? The battle of wits has begun. It ends when you decide and we both drink, and find out who is right... and who is dead.
I'm not left handed either!
Get used to disappointment.
[In response to Inigo: Who are you?] No one of consequence.
Good night, Westley. Good work. Sleep well. I'll most likely kill you in the morning.
Look, are you just fiddling around with me or what?
This is true love - you think this happens every day?
We are men of action, lies do not become us.
You seem a decent fellow... I hate to die.
Truly, you have a dizzying intellect.
[In response to Buttercup: We'll never survive.] Nonsense. You're only saying that because no one ever has.
Rodents Of Unusual Size? I don't think they exist.
You mean you wish to surrender to me? Very well, I accept.
There's a shortage of perfect breasts in this world. It would be a pity to damage yours.
As you wish
[In response to Fezzik: Why do you wear a mask? Were you burned with acid or something?] Oh no, it's just that they're terribly comfortable. I think everyone will be wearing them in the future.
Well, I'm not saying I'd like to build a summer home here, but the trees are actually quite lovely.
To the pain.
The dread pirate Roberts takes no survivors! All your worst nightmares are about to come true! The dread pirate Roberts is here for your souls!